VASAB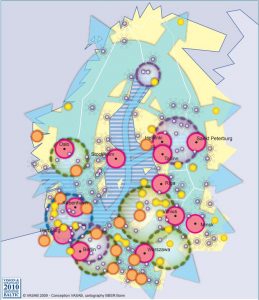 7th Ministerial Conference on 16 October 2009 in Vilnius, Lithuania has endorsed the new VASAB Long Term Perspective. The Ministers underlined that during present times, new common responsibilities and challenges have emerged which call for deeper pan-Baltic co-operation on spatial planning and development and integration of spatial development policies into all relevant sectors. The present economic restructuring has different effects in different places. Place-based planning and development policies have to react on that. There is a growing understanding that the Baltic Sea itself is in urgent need of maritime spatial planning. The new Long Term Perspective for the Territorial Development of the Baltic Sea Region (LTP) is an effort to define important challenges with a trans-national relevance and to illustrate how to deal with them.
Spatial planning is more than ever a cross- sectoral exercise and therefore in clear need of involvement of many actors. The array of actions in the LTP can only be identified, decided upon and implemented in close co-operation with other pan-Baltic organisations and partners from public as well as private sector. Common efforts are needed to fulfil them. Therefore, the LTP invites pan-Baltic organisations, institutions as well as national and regional authorities to co-operate in a transparent and efficient way.
The LTP identifies the most important assets, development trends and challenges affecting the long-term development of the Baltic Sea Region. It predicts the state of the Region in 15- 20 years as a result of joint efforts of countries and organisations; and presents the most important instruments and actions to guide the development of the Region towards territorial cohesion.
On 9-10 June 2005, the 13th Ministerial Session of the Council of the Baltic Sea States encouraged VASAB to update the vision of long-term territorial development of the Baltic Sea Region (BSR). Therefore, in the Gdansk Declaration of September 2005, the ministers responsible for spatial planning and development agreed to prepare a LTP with active participation of the regional authorities and in a dialogue with relevant pan-Baltic organisations.
Preparation of the LTP was coordinated by the VASAB Committee on Spatial Development. The document was deliberately profiled to certain policy sectors (urban networking and urban-rural relations, accessibility and transnational development zones, sea use planning and integrated coastal zone management) and developed by the thematic working groups.
The final draft of the LTP went through the concertation process by respective national ministries. It was also forwarded to all relevant organisations, both at the pan-Baltic level and in the BSR countries, to gather feedback on the content quality and on the feasibility to lead and be involved in actions stipulated by the document.