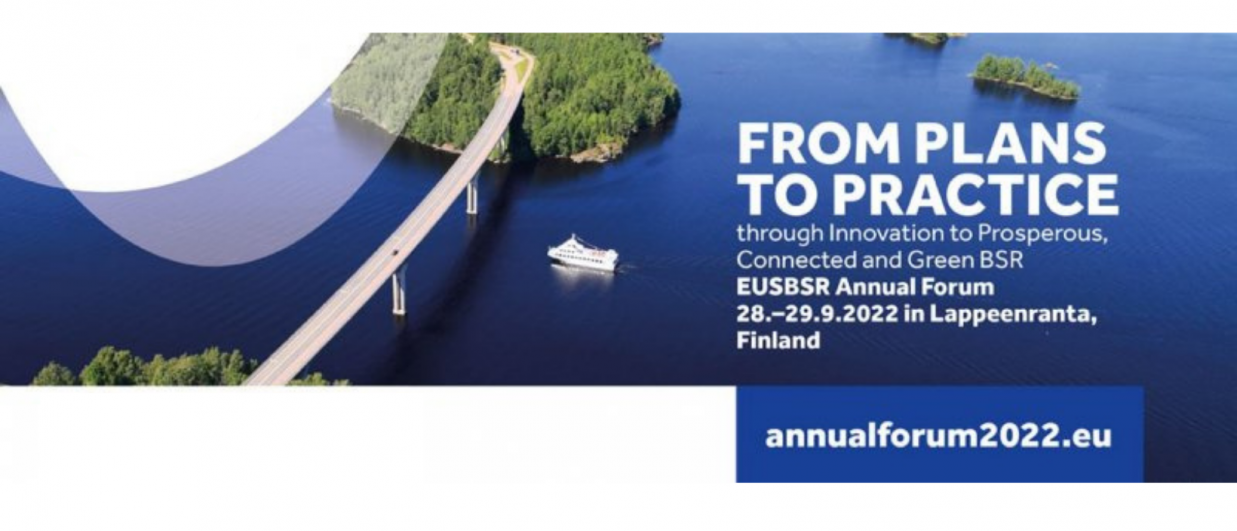 EUSBSR Annual Forum 2022
28 - 29 September 2022
Lappeenranta, Finland
About event
The 2022 Annual Forum of the EUSBSR will take place on 28-29 September in Lappeenranta, Finland.
The Annual Forum of the Strategy for the Baltic Sea Region is the largest event of the Strategy. It brings together all the stakeholders implementing the EUSBSR as well as other participants who would like to contribute to managing the common challenges the Baltic Sea Region faces.
VASAB as Policy area 'Spatial planning' (PA) coordinator within EUSBSR is honored to be a part of the event by joining the Forum`s one of parallel sessions – Session 1 "New plans and visions for Seas, Oceans and Waters". Session will present the new initiatives and plans around the Baltic Sea that contribute to save the Sea, increase the prosperity and connect the Region, among which the recent work on VASAB Vision 2040 will be presented by VASAB CSPD/BSR Chair Dr. Daniel Meltzian.
Practical steps and approaches to achieve the strategic targets defined in the VASAB Vision 2040 and Baltic Regional Maritime Spatial Planning (MSP) Roadmap 2021-2030 will be discussed in the Workshop "Sustainable oceans by governance and planning – dream or reality. Baltic Sea Perspective".  The workshop will take place on 29th September 14:00-16:00 and introduce the new MSP Roadmap and work of PA Spatial Planning as well as interlinkages between them. On of the tasks for the PA 'Spatial Planning' within the EUSBSR is to follow up on spatial planning relevant projects that support grass-root implementation of the Strategy`s Action Plan. With this workshop PA Spatial Planning intends to create a platform for various MSP projects to jointly discuss how they contribute to the implementation of the various frameworks for sustainable ocean governance. Furthermore, workshop will enable cross-project collaboration.
Forum is organized as face-to-face gathering. Registration is open till 15th September HERE.
More information about the EUSBSR Annual Forum is available HERE.