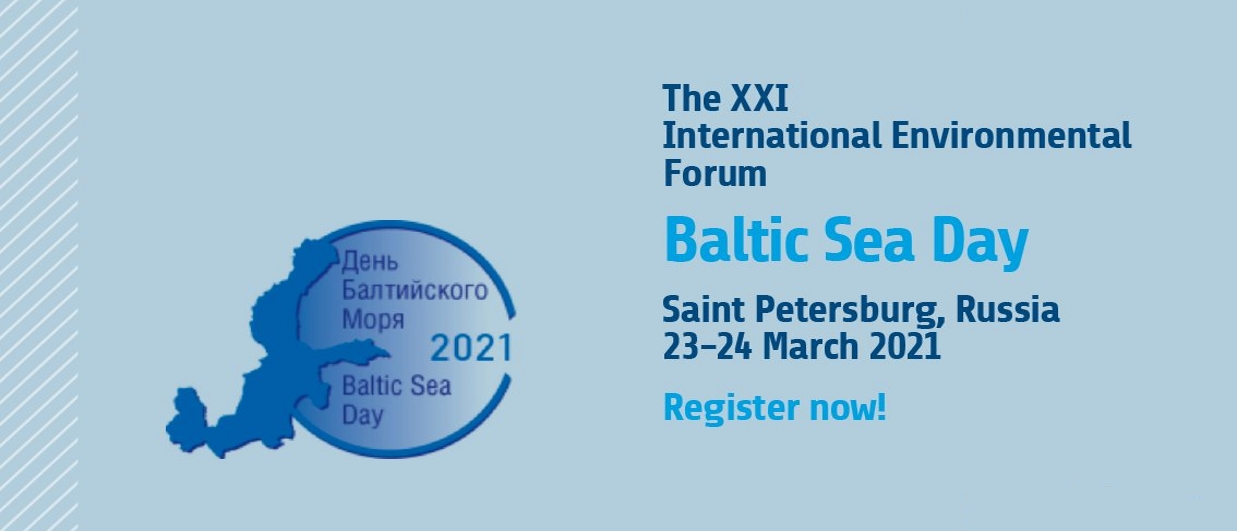 International Environmental Forum Baltic Sea Day
23 - 24 March 2021
St.Petersburg, Russia
About event
The XXI International Environmental Forum "Baltic Sea Day" will take place in St. Petersburg on 23 – 24 March 2021. The aim of the Forum is to discuss environmental challenges to the state of the sea: nutrients, micropollutants, hazardous substances in water, MSP, river basin management, addressing climate change and the need for sustainable management of water basins and other topical issues in the Baltic Sea Region.
Forum events will be held in a hybrid format (online participation and personal presence in the meeting room are assumed as possible), taking into account and fulfilment of all safety recommendations due to epidemiological situation and COVID restrictions. The Organizing Committee reserves the right to decide to postpone the Forum, in case of strengthening restrictions and/or ban on holding mass events.
The panel discussion on the implementation of the HELCOM Baltic Sea Action Plan is being worked out from the point of view of a region-wide process of updating this document and its subsequent implementation until 2030. Thus, within the framework of the round table program on hazardous substances, it is planned to present the results of a 2-year implementation of the Envitox and HAZLESS projects, and the session on the topic of marine spatial planning will be supplemented with presentations on the experience in this area of ​​the countries of the Black Sea region.
Attention will be paid to the round table on adaptation to climate change, taking into account the process of developing the Agenda 2030 for 80 cities of the Union of the Baltic Cities, and current trends in Russia, which are reflected in the draft order of the Ministry of Economic Development of Russia on the approval of methodological recommendations and targets for adaptation to climate change.