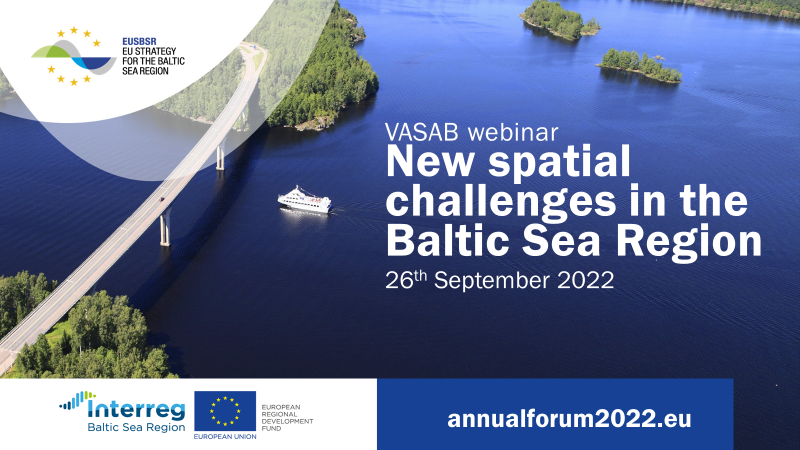 VASAB webinar "New spatial challenges in the Baltic Sea Region"
About event
VASAB webinar "New spatial challenges in the Baltic Sea Region" organized in the framework of the EUSBSR Annual Forum
The Russian Federation's war of aggression on Ukraine has significant consequences for the Baltic Sea region. It results in new spatial challenges in different sectors like energy, mobility or tourism. VASAB is also affected. Cooperation with the Russian Federation and Belarus have been suspended with immediate organizational consequences for VASAB. The suspension encompasses also other institutions in the Baltic Sea Region, like HELCOM, CBSS.
Stakeholder consultations for the new draft VASAB Vision 2040 have only recently been completed. Due to the topicality of the war, it was challenging to consider these consequences in the draft Vision in its full range. Workshop will discuss how the new situation and outlook for the Baltic Sea Region could be taken appropriately into account.
Date: Monday, 26th September 2022, 12:45-16:30 (CEST) / 13:45-17:30 (EEST)
Participation: by invitations only.
The webinar was organized with support of Interreg BSR Programme 2021-2027 project "PASPS – Policy Area 'Spatial Planning' Support".
Webinar agenda (CEST)
26 September 2022
12:45 - 13:00
Checking-in
Moderators:
Franziska Sielker / TU Wien
Michael Kull / Luke
13:00 - 13:10
Welcome and setting the scene
Daniel Meltzian, Chair of VASAB CSPD/BSR
13:10 - 14:30
Part A - New conditions for collaboration in the Baltic Sea Region

Input by Tobias Etzold, Norwegian University of Science and Technology

Panel discussion:
• How can future collaboration within the BSR be shaped in light of the current situation?
• Are there new methods and tools needed on macroregional, national and sub-national level considering the end of institutional cooperation with Russia (and Belarus)?

14:30 - 14:45
Coffee-break
14:45 - 16:15
Part B - What`s next for VASAB?

Panel discussion:
• How can VASAB respond conceptually and strategically to the changed situation in the context of spatial development?
• How can the work of VASAB be more focused on strengthening the energy and mobility transition to renewable energies in order to minimize supply dependencies?
• What are the consequences of the war for the long-term VASAB Vision 2040?
16:15 - 16:30
Closing by moderators