Let's communicate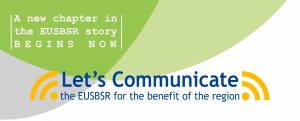 "Let's communicate!" project, funded by Interreg Baltic Sea Region Programme, functions as the Communication Point of the EU Strategy for the Baltic Sea Region (EUSBSR).
The project aims to maintain and develop further the internal and external communications of the EUSBSR framework. It has a strong partnership consisting of representatives from several Baltic Sea region countries and pan-Baltic organisations. VASAB has participated in the "Let's communicate!" project since June 2016, and in February 2019, the project was approved for funding to continue its activites.
Activities
"Let's communicate!" administers the EUSBSR website, Twitter, Flickr and Youtube accounts. The project gathers current information about EUSBSR developments to its communication channels, promotes the use of the EUSBSR visual identity and provides with communication support and tools to the EUSBSR stakeholders. In addition, the project will reach out to new target groups in order to attract new stakeholders to take part in action.
The overall objective of the Project
Let's communicate!" project is putting the Communication Strategy into practice and is aiming at bridging gaps in both internal and external communications. Internal and external communications are in many ways intertwined: more coordination in the internal communications will automatically improve the external communications. The project is willing to function as a "Communication Point" of the EUSBSR for both internal stakeholders and for external audiences and potential new actors joining the EUSBSR framework. During the project time best practices on how to organize the EUSBSR communications are sought and thus the project is also looking beyond the project time.
More information: www.balticsea-region-strategy.eu
Join the conversation on Twitter:
@EUSBSR
#EUSBSR
Basic facts
Project: Let's communicate! Let's Communicate the EUSBSR for the benefit of the Region
Budget: 679,750 € (ERDF 514,887 €)
Funding: Interreg Baltic Sea Region Programme (Priority 4)
Project's lifetime: February 2019 – September 2022
Partnership
Lead Partner: Centrum Balticum Foundation (FI)
Partners:
VASAB Secretariat (LV)
Pomorskie in the European Union Association (PL)
Eastern Norway County Network (NO)
Vilnius Chamber of Commerce (LT)
Associated partners:
Swedish Agency for Economic and Regional Growth (SE)
Baltic Sea Commission of CPMR
Estonian Ministry for Foreign Affairs (EE)
VASAB Contacts
Jana Patmalniece, Office Manager
Phone: +371 26221900
E-mail: jana.patmalniece@vasab.org
www.balticsea-region-strategy.eu
letscommunicate@centrumbalticum.org