VASAB Secretariat is elaborating a unique spatial planning document – a spatial vision for a transport corridor. Since 2016 VASAB Secretariat together with 15 other partners of the NSB CoRe project as well as many interested urban and transport planners, national, regional and local authorities, and other stakeholders are preparing transnational spatial vision of the NSB CoRe corridor. The vision should be ready by the end of 2018.
The NSB CoRe project is the EUSBSR transport flagship that aims to improve the internal and external accessibility of the regions along the North Sea-Baltic TEN-T corridor. Project activities cover logistics, long distance commuting services, spatial planning and Rail Baltica branding case.
The main aims of the spatial vision are:
To improve cooperation between national and regional authorities in planning and development of linkages between NSB infrastructure and regional/urban transport networks;
To seek for the needs of improvements of the North Sea–Baltic corridor connections with the 2nd level transport networks;
To assess impact of the NSB CoRe corridor upon regional development processes in the territory of the corridor.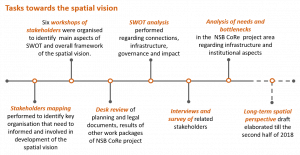 VASAB Secretariat has organized 6 regional stakeholder workshops in Poznan, Helsinki, Riga, Warsaw, Kaunas and Vaasa for local, regional and national authorities to discuss spatial and transport planning and to give their input in shaping the vision and sharing their expertise and knowledge about the NSB corridor. First three workshops concentrated on the SWOT analysis for NSB CoRe corridor, the second three – on regional benefits of improved accessibility along NSB CoRe, setting future scope, identification of 2nd level networks as well as discussing needs to improve the corridor. All in all 247 participants of the workshops create a cluster of professionals interested in reaping regional development and mobility benefits of the TEN-T corridors.
The most challenging task is still in front of us: the desk research and two rounds of stakeholder involvement activities have been finalized and now the draft of the spatial perspective is being elaborated. The draft spatial vision will be released already in the second half of 2018.
More about NSB CoRe project and project outputs: www.nsbcore.eu