During one year of intense work it has been evaluated how Baltic Sea Broad-Scale Maritime Spatial Planning Principles, Guidelines on transboundary consultations, public participation and co-operation and Regional Baltic Maritime Spatial Planning Roadmap 2013-2020 how been implemented and applied, what are the achievements of the framework and what possible future amendments are needed. Whole assessment process was carried out in a close cooperation with the HELCOM-VASAB MSP Working Group, multiple workshops were organised and the process and outcomes were presented in different conferences, e.g. Connecting Seas conference and 3rd Baltic/ 4th Global MSP Forum Global Meets Regional.
Outcomes will be handed over to the HELCOM-VASAB MSP WG and will enhanced by the Capacity4MSP platform project. This will contribute to defining regional MSP targets beyond 2020.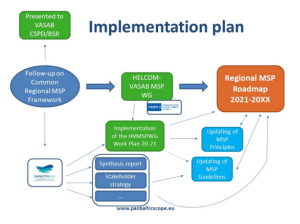 The assessment has been carried out as part of the EASME funded Pan Baltic Scope project. VASAB Secretariat and authors of the report would like to express thanks to all who have actively contributed during the assessment process.