4th Conference of Ministers for Spatial Planning and Development, Stockholm, 22 October 1996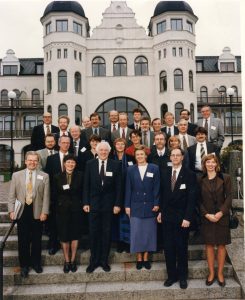 The fourth conference of ministers responsible for spatial planning and development of 11 Baltic Sea Region countries was held under the chairmanship of the German Federal Minister for Regional Planning, Building and Urban Development in Stockholm on 22 October 1996. It was organized back-to-back with the meeting of the Ministers of Environment of the Baltic Sea Region.
The Ministerial Conference provided a very practical framework for the implementation of VASAB 2010. The Conference focused on three dimensions of the future VASAB activities:
sustainability of spatial development – the Ministers supported drawing up Agenda 21 for the Baltic Sea Region,
coastal areas and islands as one of the pillars of VASAB spatial concepts – the Ministers endorsed "Common Recommendations for Spatial Planning of the Coastal Zone in the Baltic Sea Region",
implementation of common regional projects under INTERREG II C Initiative, supported by PHARE and TACIS and co-operation with INTERREG structures in the BSR.
The conference document "From Vision to Action" summed up VASAB pilot projects and suggested further steps.